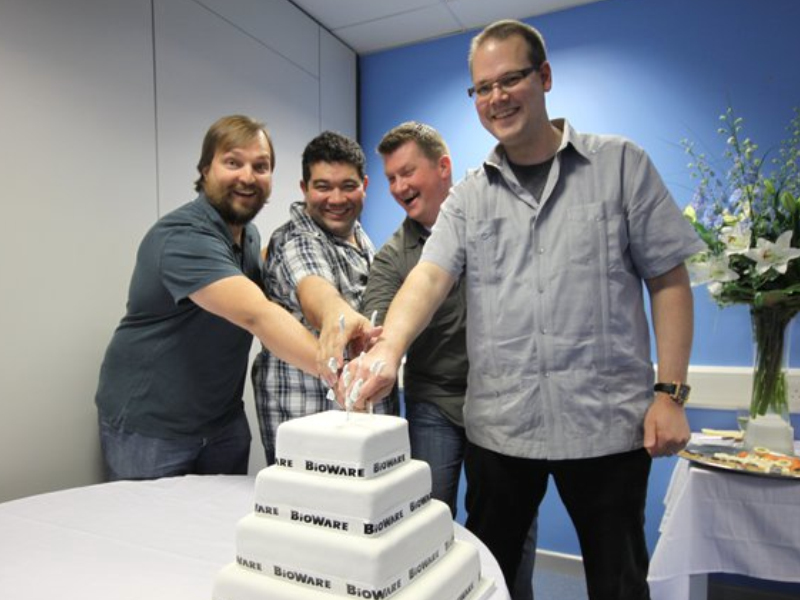 Up and Down: BioWare Founders Retire, while EA Ireland (formerly: BioWare Ireland) adds 300 new jobs.
I heard some sad, but not all that surprising news today:
RAY MUZYKA & GREG ZESCHUK RETIRE
Article Link: Here
Ray and Greg founded BioWare over 15 years ago and went on to build some of the greatest games I've ever seen – more importantly, the greatest games created as rated by the consumer over that time!  It was their dedication to quality that really attracted me to join BioWare back in April of 2009.
One of the first conversations I had with anyone at BioWare was how Ray wanted to deliver a customer service and engagement organization on par with the quality of their products.  He and Greg saw BioWare as the premium label within the industry – and especially within EA, and felt that our support teams should reflect that.  That dedication, which I heard from his own lips over and over, is what really motivated me to join them and build the team that they have now.  It's also a large part in why I decided to leave BioWare.  As EA came in following the launch of SWTOR, and our two customer service organizations were to be combined, I was forced to watch those dreams being dismantled.
The irony is that on a day as sad as this for the industry, EA decided to announce the expansion of what was BioWare Ireland (now, EA Ireland) by 300 jobs (on top of the 400, I put there) this morning in Galway, Ireland.  While incredibly happy for Ireland, the IDA, my former teammates, and the people of Galway…I am sad for the dream that once was.  Article Here: Link
It is indeed a sad day, especially for those still at BioWare.
However, it doesn't surprise me.  Ray and Greg built the organization from scratch, they saw it grow year on year.  They were acquired twice, and finally by Electronic Arts, Inc.  Initially, they had a great experience with EA and were able to continue driving their company the way they always had, focused on the "famous Core Values" speeches that we loved to hear from them.  It was a great time, we were excited, the products kept coming, and the fans were happy.
I think I actually participated in one of the last Core Values presentations they ever did.  Prior to EA they met with every single new employee to share their unique and profound vision for their company.  They were inspiring and passionate, and you really felt it and were proud to be a part of it.
Over time, post-acquisition, I was witness to the gradual slide in approach from what BioWare was when I joined to the more homogenized version of the official EA party line.  I saw, firsthand as their vision was morphed to fall in line with the broader EA values.  I saw frustration, I saw change, and I saw pressure fall down on the studio.
In spite of the heavy challenges that they faced, Ray and Greg always seemed to come out on top.  They rose to the occasion when needed.  Greg, himself, stepped in to head up the studio in Austin as GM.  They were always there to make sure that the final word, the final decisions, were the right ones.  I always knew that I had an ally in either of them.  They were great, and I will be sad to see them go.
 From Ray's Blog Post:
"Thanks to all our fans – for your passion and your loyalty, and for enabling the teams at BioWare to create great products for you in the past and the future. The teams recognize and appreciate your feedback, both positive and critical, and they know it springs from deep passion – that is always infectious and inspiring."
Ray really did believe in the principle of quality: Quality in our Workplace, Quality in our Products, and Quality for our Investors ("our players are our investors").  He was a great role-model and mentor.  Best of luck to you, Ray!
From Greg's Blog Post:
"At BioWare we've always valued the effort of the team, as well as the herculean efforts of passionate individuals. I've had the privilege of working with some of the best people in the games business; some of them are well known, and some are not. What every single one of them does is commit himself or herself fully to the act of doing great work, whatever it is, and then stubbornly pursues the goal until it is achieved. The amazing thing about working at BioWare is that everyone does this; it is part of the culture we helped foster and grow. BioWare's foundation in its Core Values, passion and professionalism remains in the very fiber of the company. One thing I'm confident of is that we've built a great team that will continue to succeed long after I'm gone. The thing I'm most proud of is the success of people that we've help grow over the years; I hope all of them exceed anything I've ever done and eclipse our achievements. I have full confidence in the current leadership team guiding BioWare to continued future success."
He's right.  Working at BioWare, I was always amazed at the quality and dedication of our teams.  Ray was the visionary, and Greg was the heart.  I had a long conversation with Greg about that once, on how he saw people, and how he dealt with them.  I was in Prague on a phone talking to one of the greatest legends in gaming and hanging on every word.  I'll never forget it.
The header picture is of Ray and Greg with me and Ruben Cortez at the 1-year celebration of the founding of BioWare Ireland.
They'll all miss you.  I already have been.