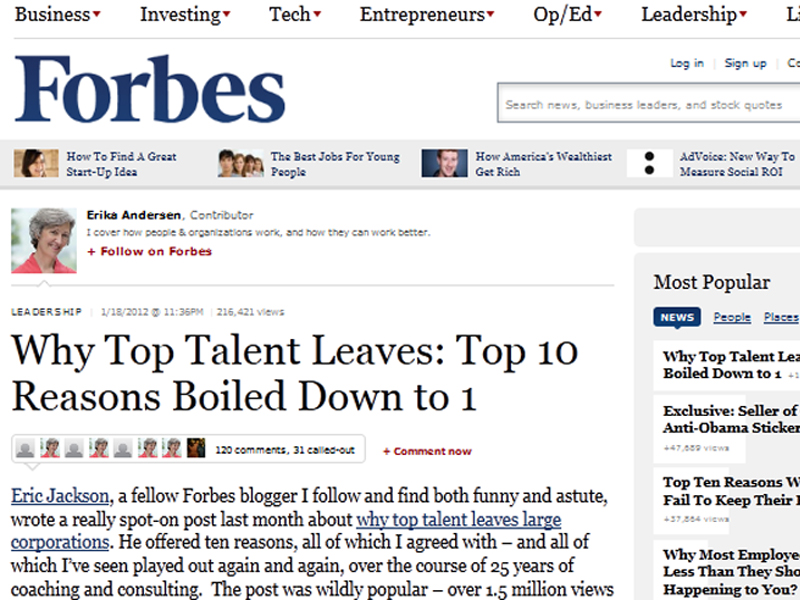 Why Top Talent Leaves?
Came across a very interesting article at the Forbes website today from contributer Erika Anderson, called:
WHY TOP TALENT LEAVES: TOP 10 REASONS BOILED DOWN TO 1
Essentially, she boils it down to one simple argument, but I'll let her say it herself…she's much better at it than I ever would be:
So why do we find this topic so interesting?  I suspect it's because we're genuinely curious: What would make a very senior executive – someone who most certainly has been courted by his or her organization and then paid huge sums of money to join – decide to pack it in?  Is it greed (an even richer offer down the street)?  Hubris? Short attention span?  Or do 1%ers actually leave jobs for the same reasons  as the average Joe or Josie?

According to Jackson (and, again, I agree with him) top talent does indeed leave for the same reasons everyone else does.  If I were to distill his 'top ten reasons' down to one, it's this:

TOP TALENT LEAVE AN ORGANIZATION WHEN THEY'RE BADLY MANAGED AND THE ORGANIZATION IS CONFUSING AND UNINSPIRING.
Culture, culture, culture is as important in business as location, location, location is in real estate.
Companies rise and fall on the whims of their culture.
A company's culture is defined by it's leadership, by the executive, and by the management.  If the culture is true and good, it provides clarity, direction, and most importantly vision.  Without vision, there is no inspiration and these elements combined are what motivates people to get out of bed and come into work everyday.  It's no surprise to me that organizations whose cultures are failing to provide vision and direction – the motivation to inspire and uplift their teams – would face loss of talent (whether top talent or the talentless for that matter)!